FREE WEBINAR
Calling all HR leaders:
Hear how to make data your new superpower!
Full details below
Make data your superpower
Join us for an exclusive interview with Dave Millner, Founder of HR Curator Ltd, and author of 'Introduction to People Analytics'. We will be picking Dave's expert brain on all things HR data, people analytics and how to get started.
Discover how to gain control of your data, utilise it to enhance your HR and business goals, and turn it into your best superpower!
REGISTER BELOW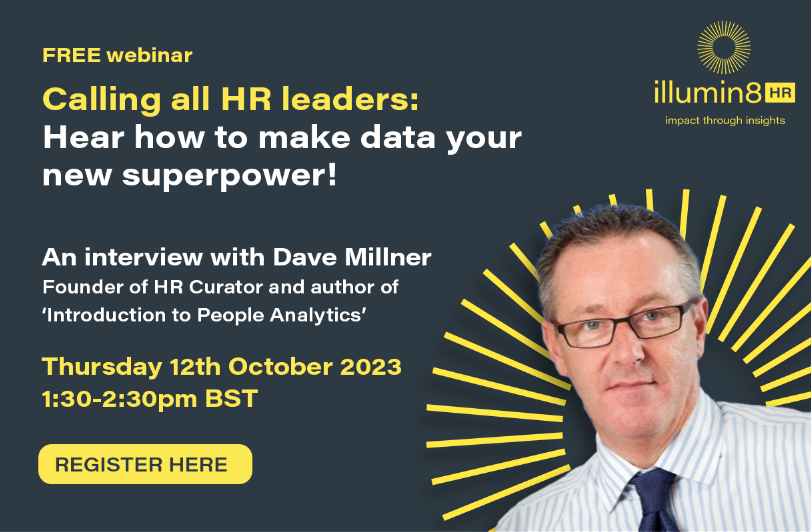 An interview with Dave Millner
Dave Millner is an experienced consulting practitioner with a demonstrated history of working across many different sectors and countries. He is skilled in People Analytics as a recruiter, a facilitator and trainer for HR practitioners, HR Transformation, Culture and Employee Engagement programs, Organisational Development interventions (organisational design and workforce/succession/scenario planning) and Leadership/Executive Coaching. Strong consulting professional – Chartered Institute of Personnel and Development and Occupational Psychology professional.
With an apt for putting pen to paper, Dave is an author of "Introducing People Analytics: A Practical Guide to Data-Driven HR" and futurist looking at the world of work, the HR function and the people practices across organisations. A regular conference speaker across the globe on these subjects.
#16 HR Most Influential Thinker 2021 by HR Magazine.