All your employee data in one place
Make decisions on your key people challenges faster, easier and data-driven, removing bias and minimising risk.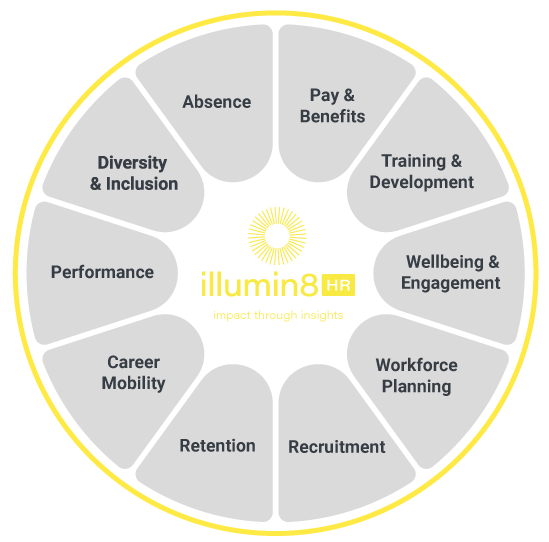 illumin8HR – People analytics made easy.
Whether you require simple reports and dashboards or more advanced actionable and impactful insights, illumin8HR is a scalable people analytics platform that can cater for all.
illumin8HR can help all people across your business at any level
Discover how it can help your team today
Easily access the data needed on their teams and benefit from early warnings of potential issues so they can be understood and addressed as soon as possible. Being able to share those insights within the platform to gain support, context and enable action, allows for better people outcomes.
illumin8HR helps drive consistency in what HR goals the organisation is focused on and how they are calculated. It empowers their leaders and people managers to self-serve. Plus, it enables them to measure the impact of HR programmes on organisational performance.
illumin8HR delivers forward looking metrics that inform people decisions and how they align to business goals.  It means a better understanding of people costs including salaries, recruitment, retention and absence in real time, and the financial impact of business decisions and investments.